As a self-confessed technophobe the Tesco Hackathon was never something I thought would be for me. I was invited to be part of a team comprising of external tech consultants and thought "Why not?!". The opportunity to create something that answered one of my many: "Why don't we have something that…?" questions, was too tempting to pass up.
I hadn't heard of a Hackathon before but discovered that it's an intense coding competition where teams get 24 hours to build a prototype of a new app, to help solve a problem somewhere in the business.
"The Hackathon was brilliant fun, I loved the energy and buzz that was generated by all the teams as they were brainstorming and then building their ideas. I was so impressed by all the hacks that were created – the standard definitely felt higher than previous years and every hack fit the brief of "a little help" perfectly."

Angela Maurer, Head of Tesco Labs.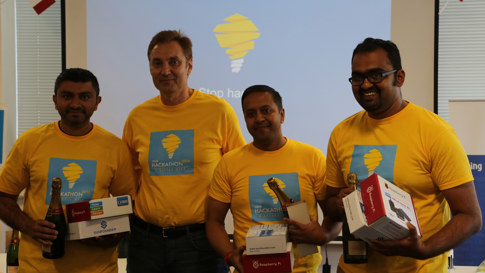 The calibre of hacks was outstanding and extremely inspiring. The teams themselves came from all over Tesco including from Tesco Bank, Tesco Mobile, stores and some of our supplier partners. This year there were over 100 people taking part, in 16 teams. The hack theme was "A little help". We were challenged to come up with loads of ideas and prototypes for helping both customers and colleagues out, in their everyday lives.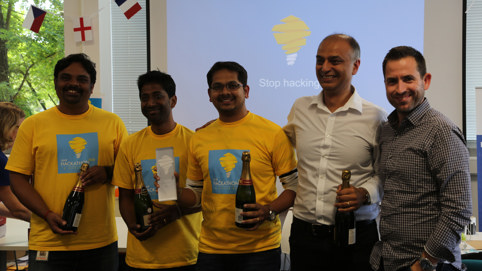 The 2016 winners:
1st Place – 'Sam's Elite' created a customer mobile app for real time visibility, tracking and information of their order, including any order changes, precise delivery time, driver and van info and delivery feedback.
2nd Place – 'The Royal Hackers' created an app that linked a scan-as-you-shop device to a customer's online shopping list, from fridge to checkout in store.
3rd Place – 'The Bankers' created an app which allows our customers to budget for their shop and track how much they throw away, with the aim of reducing food waste.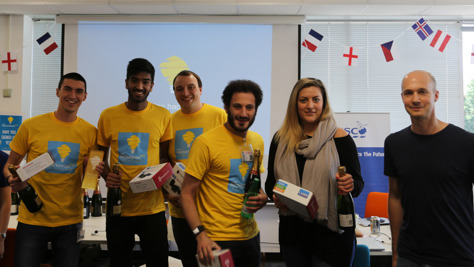 "The Hackathon was so much fun. Our team got a chance to showcase the skills we've learnt since joining the Tesco Bank graduate programme. It was great to see everyone doing what they do so well. We really didn't expect it, so we were delighted to get 3rd place. We're coming back next year, to win!"

Scott Gardiner, Tesco Bank.
Although our idea of "healthy helps" didn't win, I'm exceptionally proud of it and leant so much in the process. It was a chance to meet loads of inquisitive and passionate colleagues. Bring on next year!
This content was written by Sarah Gallo, Health & Wellbeing Manager, and was originally posted on the Tesco PLC blog.